We are your storage solution.
Sajono Self Storage has reliable and dependable self storage facility for residential or commercial in Northeastern Alberta, look no further.  Servicing the Lac La Biche, Fort McMurray, Plamondon, Grassland, Bonneville, St. Paul, and Boyle and surrounding areas.
We offer various storage options to suite your needs. All with 24 hour surveillance and 24 hours electronically controlled access.  The security of your items is our most priority.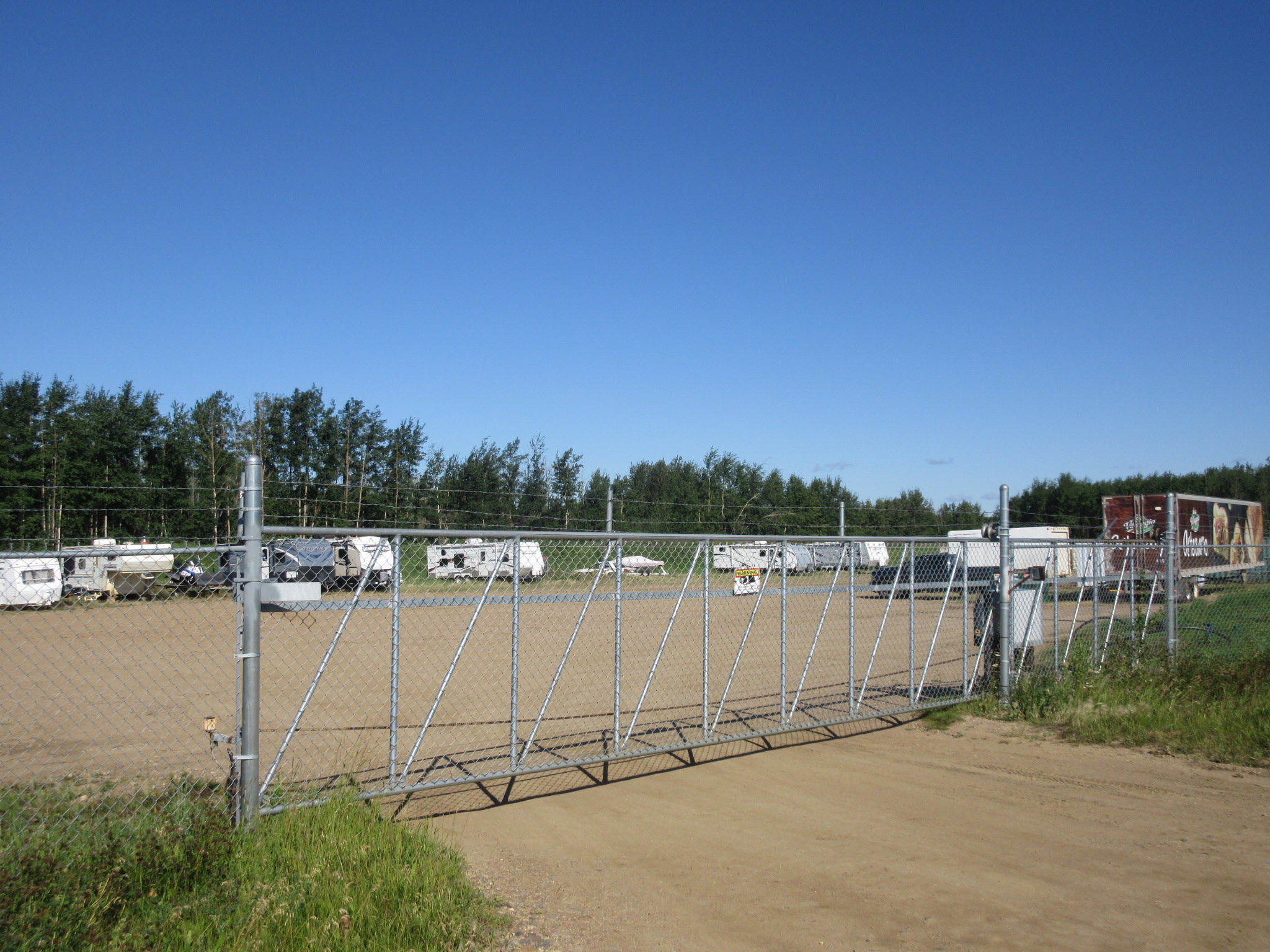 Self Storage Lac La Biche
Sajono Self Storage  offers various storage options in our well-lit, fully fenced lots that have surveillance 24 hours a day, 7 days a week. Our 4-acre storage facility has room for RV, trailers, commercial storage, along with various sizes of self-storage units.
We also have a 3-acre vehicle storage facility with powered stalls. When you need a full-service storage facility, Sajono  has you covered.
Contact us today to reserve your storage unit and declutter your life.
Our flexible rental options cater to both short-term and long-term storage needs.
And we provide you with peace of mind while offering a variety of storage solutions.
Rest easy knowing that your belongings are secure, convenient, and affordable with our self-storage solutions in the Lac La Biche area. Trust us to keep your cherished items safe and secure. Contact us today for a no obligation, free quote today.
Self Storage Storage Types In Lac La Biche
Our 24-7 security surveillance parking & storage lots.
All
Parking Lot
Storage Lot
SELF STORAGE
Do you need self storage? Maybe you're moving, storing barley used items, need somewhere to put your seasonal items or store your ever-growing collection? We offer clean, secure storage units in various sizes, so you only need to pay for the size that you need. You can store your bicycles, couches, tables, fridges, freezers, clothes, pictures, tools and more. Personal storage, household storage or business storage; we got you covered. You have access to our secure site 24 hours a day, so whenever you need acces you have got it.
RV AND BOATS
Recreational vehicles take a lot of space on your property. Make some room when you leave your RV or boat with us. No need to worry when a short notice trip comes up. You can get your RV or boat when you want it with our 24 hour gated keypad access. Maybe you are looking to buy and RV or boat but do not have any place to put it? Our storage fees are very affordable, so high fees need not be a worry. Contact us for details on what we can offer you for your storage needs.
PERSONAL VEHICLE STORAGE
Beep! Beep! Sajono Self Storage keeps cars and trucks stored away safely. We can store your classic vehicle or your prize possession Ford Fiesta. Whatever vehicle you love, you can store it with us and not worry about its security. Leave it with us for a short or long period of time, as long as you require. Have peace of mind with our 24 hour security.
TRAILER STORAGE
Personal or business car haulers, flat deck trailers, goose neck trailers or enclosed trailers, we have lots of room in our storage area. Our site has 24 hour surveillance, 7 days a week. Store your trailer securely and access it whenever you need it.
COMMERCIAL & BUSINESS STORAGE
We have lots of space for storing almost anything. You need storage in the Lac La Biche region or Northeastern Alberta, give us a call. We will try to help.
ATV'S AND MOTORCYCLES
You only use your quad or motorcycle in the summer months and take up space in your garage or shed the rest of the year? Your snowmobile sure is nice to look at all summer, but it would be nice to use that space? Check out our self-storage containers. Safely stored away till the next season of fun begins.
Sajono Self Storage Facilities
Our 24-7 Security Surveillance Parking & Storage Lots
All
Parking Lot
Storage Lot